Notice of exhibition at Salon du Chocolat-Paris 2022
"Farm of Africa" will be exhibiting jointly with Tachibana & Co.,Ltd. Corporation at the Salon du Chocolat Paris 2022, one of the world's largest chocolate festivals in Paris!!
■ Initiatives to address issues in cocoa-producing regions
In Japan and other countries where chocolate and sweets are consumed, the terms SDGs and EGS have become increasingly common, but on the other hand, many issues such as child labour and environmental destruction still remain in the countries where cocoa and vanilla, the raw materials for these products, are produced.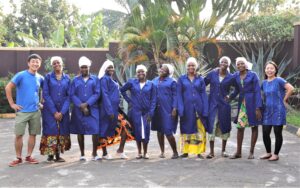 All our purchases are made directly from farmers. We have established our own evaluation criteria for farm conditions and child labour, and check these regularly. We also provide guidance to farmers on cultivation and harvesting to eliminate middle-margins and produce cocoa at a high unit price, so that even small farmers can increase their income.
Agroforestry farming, which combines agriculture (agriculture) and forestry (forestry), is promoted to farmers and is also practised on the our farms. In contrast to monoculture, where only a limited number of vegetables are grown, this farming method cultivates a variety of agricultural and forestry products in symbiosis with each other. We are not only planting cocoa trees, but are also promoting sustainable agriculture with less burden on the natural environment through guidance on planting shade trees and bananas at the same time.

Our farms are equipped with solar panels. The farm is 100% powered by its own solar power generation and is also working to reduce CO2 emissions.

■ Efforts to improve quality
In order to not only solve issues but also to improve quality, we set our own rules for farmers in terms of cultivation and harvesting methods. The carefully selected raw materials are fermented and dried in-house, and the temperature and moisture content are controlled in units of several hours and hundreds of kilos in order to bring out the best aromas of the cocoa beans. After drying, the beans are thoroughly sorted to remove any beans that may impart a negative taste or aroma when producing chocolate.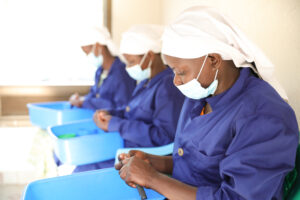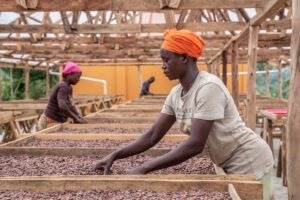 "Tachibana & Co., Ltd." is a trading company specialising in cocoa-based confectionery ingredients, dealing directly with cocoa producing regions around the world and building sustainable relationships with producers.
In 2021, the company was selected for the Ministry of Economy in Japan, Trade and Industry's subsidy project, the '7th Tobidase Japan! project, and worked with "Farm of Africa" to operate a fermentation and drying centre to improve quality.
Reference website;
https://www.tachibana-grp.co.jp/
https://www.icnet.co.jp/tobidase-japan-support/r3/

【Summary of the event】
Name: 'Salon du Chocolat-Paris 2022'
Date: 28 Oct (Fri) – 1 Nov (Tue), 2022, 10:00 – 19:00      Venue: Paris Expo Porte de Versailles (Paris)
URL: https://www.salon-du-chocolat.com/
Booth number: Pavillon 5.1 / E-29
We will be exhibiting at booth E-29. Please stop by the Farm of Africa stand when you visit.